Pilot's Night – An author's journey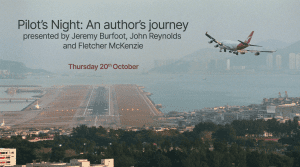 We have been planning this night for quite a while and finally, we have everyone we need to make a very interesting event.
We have invited 3 pilots who wrote several books to talk about their experiences and share some interesting stories. The books they wrote are all in different styles which should make the talk even more interesting.
Jeremy Burfoot (Kiwis Can Fly) started his PPL a long time ago at North Shore Aero Club and finished flying the Queen of the Skies for Qantas.
John Reynolds is a New Zealand author who has just published an action-adventure novel titled Low Flying, he also undertook some flying lessons from NSAC. Outside of book writing he also has written the story and lyrics for several successful rock musicals.
Fletcher McKenzie (Lessons From the Sky series) works in the aviation industry and is a private pilot, with two National Flying competition titles behind him. A tow pilot, former paraglider, and parachutist, the aim of Fletcher's Lessons from the Sky series is to save lives – to help other pilots be safer pilots.
Books of all 3 authors will be available on the night at a very special price for everyone attending and also will be signed by authors.
We are meeting at the club's lounge on Thursday 20th of October at 6.30 pm, the bar will be open from 6 pm and pizza will be provided.
RSVP is compulsory, please send an email to [email protected] if you wish to attend.