ServiceIQ's Aviation Gateway Flying Programme is a fantastic way for students who are interested in aviation to get a feel for what it's like to be a pilot and to gain an understanding of different areas of the industry. If the passion is to be a pilot, this first-time experience can help a student gain acceptance into full time flight training.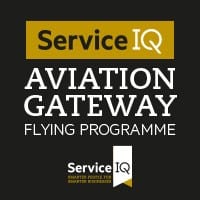 This programme consists of both theory and practical learning and experiences. Our resources consist of 6 unit standards, 5 of which total 19 credits at level 2 the last unit is level 1 at 1 credit. Students with discipline and self-motivation can complete these units over a term as they are self-study and assessment is open book, the units provide a good cross section of knowledge of the aviation sector from baggage handlers to pilots and Air Traffic Controllers.
The practical component includes the first three flights of their (PPL) Private Pilot's License and various workplace visits and experiences with the practical cost determined by each aero club.
The student will participate in a 10-week programme of 1.5 hours of flying and workplace experience.
The cost of the flights through North Shore Aero Club is $725 (incl. GST).
The whole experience is designed to give the students an in-depth understanding of the aviation sector so their eyes are wide open to options available so they can make an informed decision.
Students who successfully complete the programme will have gained:
Three flights towards their Private Pilot's Licence (PPL)
20 credits towards a nationally recognised qualification
Real skills and knowledge of the aviation industry an insight into many exciting career options in aviation
Access to aviation workplaces that are normally hard to visit
If you think flying is in your DNA, and you can answer "yes" to this checklist, then you really should apply:
Year 12 or Year 13 student
Minimum of Level 1 English and Maths
Genuine motivation to enter the aviation sector
The 2024 programme will have 2 intakes – Intake 1 will start on Wednesday 1st May and Intake 2 on Thursday 25th July, both intakes will be running on a weekly basis for 10 weeks.
To see the full schedule please follow the links: Intake 1 Schedule, Intake 2 Schedule.
Click here to find out more about the Aviation Gateway Programme.
To ENROL for the programme:
Get in touch with the Gateway Coordinator at your school;
Fill out the form on the last page of the INFO PACK;
Write an essay about why you want to join the Aviation Gateway programme;
Read and sign the Memorandum of Understanding (MOU);
Send your essay together with the filled form and signed MOU to

[email protected]
If you have any questions about the programme or application process please get in touch with Anton Ramenskiy via phone (09 426 4273) or email ([email protected]).