DC-3 Trip to Tauranga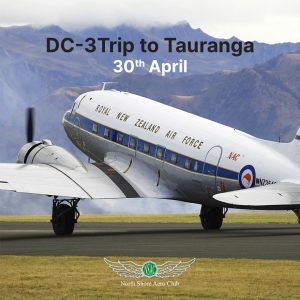 DC-3 trip to Tauranga is 100% going to be a highlight for this year and trust me, you don't want to miss it.
Here are some details about the trip:
We gather at the Club at 8 am and head off to Ardmore all together in a comfortable bus provided by Bayes Coachlines.
At 9 am we will have tea and coffee served by the host and we'll have some time to look around the DC-3 and take a couple of pictures.
We depart from Ardmore at 9.50 am to be in Tauranga at 10.30.
During the flight everyone will be allowed to visit the flight deck and take a few pictures there.
The flight will be flown at lower altitudes, as it is a scenic flight.
Also, as it will be a private flight – wearing MASKS is not required during the flight, unless we're instructed to by the pilot on the day! We still require all passengers to be double vaccinated and provide a valid vaccine pass upon arrival.
In Tauranga we are going to have a tour of the Classic Flyers Museum and Lunch.
Departure from Tauranga is planned for 2 pm, and upon arrival at Ardmore the bus will be waiting to take us back to North Shore.
ETA North Shore is 4 pm.
Tickets:
$90 for club members;
$115 for non-members.
This is the price for a one way ticket, that will include:
1. Transfers from North Shore to Ardmore and back by bus;
2. Flight from Ardmore to Tauranga or from Tauranga to Ardmore on the DC-3;
3. Group tour of the Classic Flyers Museum.
After museum tour we'll have a lunch at Classic Flyers café (Optional) – The Classics Lunch/Finger Food buffet – five options, will be $31 per person. 
Last year the demand was so high that some of our members flew to Whitianga in their own or hired aeroplanes, and then swapped passengers to fly back to Ardmore on DC-3. I think we can arrange something similar this year as well, as long as we plan for it in advance.
The DC-3 is limited to 28 passengers, so if you're keen to go, let us know in advance, as well as if you would like to fly to Tauranga in your own aeroplane and then swap with someone on the way home.
To book your seat please email Anton at [email protected]