Club Circuit Competitions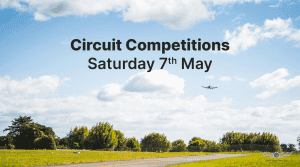 Ready or not, here we come! The second round of Club Circuit Competitions is going to be held on Saturday 7th May.
Competitions are a great way to get involved with the club and meet people with similar interests in aviation. They're all about getting involved, improving skills, meeting new people and having fun.
This time we have selected the following competitions:
HMS North Shore (Robin 2120)
Bombing (Cessna 172)
HMS North Shore is afloat and into wind. Your job is to complete a circuit without going off either end of the deck. If you do, you may get wet.
Bombing. How's your aim? You will have two attempts to hit the bullseye from 300' AAL. Your score is the aggregate distance away from target (plus flight accuracy penalties), and the lowest score wins.
For each competition, the competitor will have 2 attempts to show the best result.
ANYONE can participate.
 After the competitions, we will have our traditional BBQ that will be FREE for both participants and supporters. The bar will be open early on this day!
To REGISTER for the competitions please send an email to [email protected] with your name and account number, also please specify which competition you are planning to participate in.
Get involved – once you do, you won't regret it!