Club Circuit Competitions – Round 3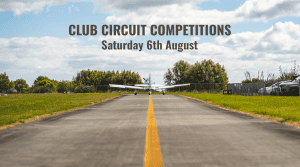 On Saturday the 6th of August we will have round three of our Club Circuit Competitions with a BBQ afterwards.
It will be our last Circuit Competitions this year so don't miss this opportunity.
As usual, we will select two circuit competitions that will be announced in the next Slipstream.
We are looking to have those competitions from 2 pm up to 5.30 pm, so a maximum of 7 competitors for each competition will have a chance to show their best results.
NOTE: These Circuit competitions will be the last stop before big Club competitions together with Whenuapai Aviation Sports Club in September.
This time we have selected the following competitions:
Non-instrument circuit
Flapless glide approach
For each competition, the competitor will have 2 attempts to show the best result.
ANYONE can participate.
 After the competitions, we will have our traditional BBQ that will be FREE for both participants and supporters. The bar will be open early on this day!
To REGISTER for the competitions please send an email to [email protected] with your name and account number, also please specify which competition you are planning to participate in.
Get involved – once you do, you won't regret it!