2022 NZ Aerobatic Championship – CANCELLED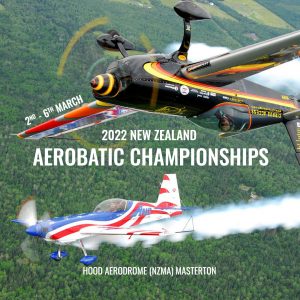 Categories – All (Primary to Unlimited)
Sequences – The 2021/22 Known sequences are on the NZAC website or on OpenAero (Library > 2022 > NZAC)
NOTE:
Please take the time to put together a Known/Free Known using OpenAero (there are instructions HERE).
For Intermediate/Advanced and Unlimited pilots, you can find the figures for use when building your 2022 Nationals Free Known at "OpenAero / Library / 2021" and select your CIVA category of Free Known.
And, also for those categories, put together a little library of Free Unknown figures that suit you and your plane.
Accommodation – BOOK NOW! 
Hotels/motels are in short supply because of other events happening in and around Masterton.
Alternatively, there is permission to erect a tent/camper/van 'City' adjacent to the Aero Club (like they do at Oshkosh). The Aero Club has full kitchen and bathroom facilities to support us, so we should have a fun time being right on the field. If you have your own tent, van or camper – great! If not, enter your needs into the entry form NOW so that we can sort out something for you.
Entry Fees – Primary $120 / Recreational $180 / Sports – Unlimited $240.
You may enter up to two categories, with the permission of the Contest Director, however, if you fly the same aircraft in both categories only the scores for the higher category will count.
Need more info?
Contact Grant Benns 0210629929