Aerobatic Ground Course | Full-time Course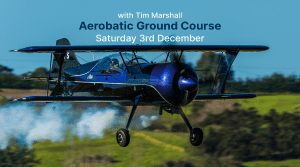 Do you want to learn how to safely fly loops, rolls and other aerobatic maneuvers?
Join Tim Marshall on Saturday the 3rd of December at North Shore Aero Club or through ZOOM for an Aerobatic Ground Course and get one step closer to 3 dimensional freedom?
Aerobatic Ground Course is Designed to introduce you to aerobatics and fulfil the theory requirement for completing the Aerobatic Rating?
This Full-time course will be running from 0800 to 1300 on Saturday the 3rd of December
If you have any questions or would like any further information please get in touch and we can assist you further.
0800 4 WINGS | [email protected]