Pilot's Night – Everything you need to know about EV's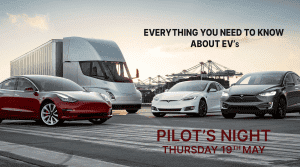 Our next Pilot Night will be not aviation related, but hey, who told you that they all are. On Thursday 19th of May, we want to invite everyone who has any questions about owning an EV vehicle.
The host for this evening will be Steven Perreau who has a significant experience in this topic.
Here are some questions that will be answered this evening:
•    How will I charge it?
•    How long does it take to charge?
•    How long will the batteries last?
•    Will I have to buy a new battery one day?
•    What about the range?
•    What happens if run out of charge while driving?
•    Why do EVs have an ordinary 12V car battery?
•    What are the different plug types?
•    Are EVs really cheaper to run?
•    What are they really like to drive?
•    Are EVs really greener than a petrol cars?
•    What about hydrogen powered cars?
•    Are EVs really ready or should I wait?
•    Can the NZ national power grid actually recharge EVs if NZ goes really big on EVs? and more!
We will start the presentation at 6.30 pm, but the bar will be open from 5.30, so come early to enjoy some time with your fellow members.
RSVP is required.