RSA Day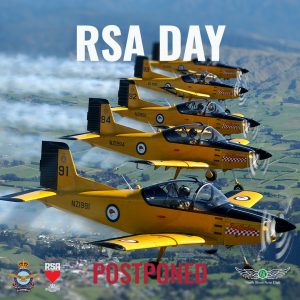 5 RSA Clubs confirmed their participation:
– Birkenhead RSA
– East Coast Bays RSA
– Hibiscus Coast Community RSA
– Warkworth RSA
– Devonport RSA
We are planning to bring at least 100 RSA members who have seen active duty in the past to our club for morning tea and a tour around the airport. Later, with the assistance of NSAC and WASC members, we will fly to RNZAF Base Whenuapai where we'll have a tour around and lunch, and then we'll fly back to North Shore.
If you own an aircraft (high wing preferably) and want to HELP us with transferring our veterans from North Shore Airport to Whenuapai and back, please let us know by clicking the green button below.
If you do not own an aircraft, but you know someone who does and who will be able to help us please ask them to email me directly at [email protected].
We greatly appreciate any help offered.