Rotorua Fly-in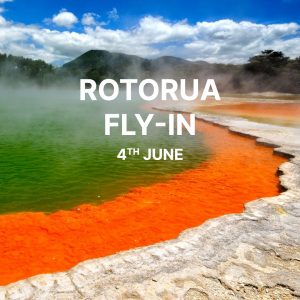 Our next fly-in event will be on Saturday 4th of June – this time we are going to Rotorua.
Same as before we are gather at the club for a short briefing, then we will fly together to Rotorua. After the landing we will be picked-up by a shuttle bus and dropped for one or two interesting activities. After the lunch we will head back to North Shore.
Taupo trip showed that we need to consider the fly-in events as a full day trip.
NOTE: To confirm the shuttle-bus price we need to know the number of people going by the end of Wednesday 1st June please.
NOTE: If you are planning to hire an aircraft from the club please make sure that you do it in advance as Saturdays are usually very busy.
Costs to consider:
– aircraft hire (unless you own one);
– landing fees ($15-20 + GST for Rotorua Airfield);
– transfer cost (depends on the number of people flying, in Taupo the whole cost of the transfer was $15 per person);
– activities admission fees (Red Woods hike – FREE, Red Woods Tree Walk – $35, Red Woods Altitude – $139, SkyLine + Luge (5 Rides) – $68);
– lunch (lunch venue will be chosen by the group on the day).
Remember that all fly-in events will continue to be organized by club as long as club members – you, are interested in them.
So if you have any questions, feedback or suggestions please don't hesitate to get in touch with me. ([email protected])