BIG QUIZ NIGHT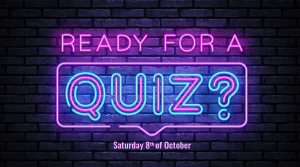 On Saturday the 8th of October we will have  BIG 'Believe It or Not' QUIZ at the Club.
This QUIZ will be hosted by Tim Marshall at the club's lounge.
We start at 6.30 pm and the whole QUIZ will take approximately 2,5 hours (there will be 8 rounds in total).
PLEASE NOTE that we have limited availability for the QUIZ, we can accommodate only 8 teams (7 teams of 6 and 1 team of 8 people).
Entry fee – $10 per person or $60 for the team ($80 for the team of 8 people).
Each member of the team will get a welcome drink from the club's bar and also each table will get a pizza.
PRIZE: $100 credit for the club's bar for the team winning the QUIZ
To register your team please fill out the registration form below.
If you have any questions or if you are looking for the team, please email me at [email protected]